Gift Certificates
Show Someone You Care!
Spoil someone you love with a Gift Certificate - the perfect gift for any occasion.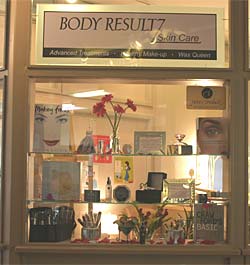 Choose relaxing and rejuvenating services such as Facials, Makeup Sessions, or Wax Treatments (yes, they can be performed with no discomfort).
Ask Gayle for ideas and suggestions.
Gift Certificates for $120 (or more) are highly recommended as the more popular facials start in that price range.
Body Resultz Skin Care Gift Certificates are elegant and presented in a beautiful envelope with special trim and are available to purchase over the phone on your MC/VISA and may be mailed directly to the recipient.
Currently available by Credit Card purchase by phone (831) 320-6663 or payment in person at:
1001 Center Street
Suite 3
Santa Cruz, CA 95060