GAYLE'S SIGNATURE SPECIAL SPA FACIALS
Give that someone special one of my "Special Spa Facials"!

GAYLE'S TROPICAL ISLAND FACIAL
(A "complete facial" approx 90 minutes $120)
YUMMY Facial Mask of PAPAYA & MANGO Enzymes - highly effective, yet gentle.
Your Choice of Island scented Massage Body Lotion for the neck, trapezius, shoulder to fingertips massage.
HEAVENLY Facial Scrub with ISLAND PINEAPPLE & Yonka 40% glycolic acid peel - stimulates smooth healthy skin.
Wonderful tropical Facial Massage with YONKA products and FABULOUS Island inspired AROMATHERAPY spray atomizer, & incredible YONKA fruity masque. You'll be surrounded by beautiful ISLAND background Music & at the end, enjoy Gayle's Hibiscus Cooler, Triple Ginger Snaps and Coconut Macaroons as a finish to this Tropical Island facial.
GAYLE'S ASIAN ZEN STONE FACIAL
(A "dual" treatment for face & body of 1¼ hours $135)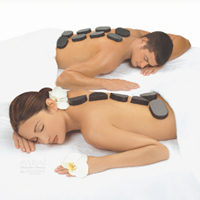 "An unsurpassed mineral therapy treatment that relieves muscular, mental and emotional tension. This is a truly renewing experience that results in youthfully rejuvenated skin." Gayle uses 6 different types & shapes of pure granite heated stones designed specifically to massage shoulder-to-fingertips, feet, decollete, trapizeius…and 9 large flat stones that you lay on. It Includes a fabulous Mandarin Orange Facial Masque & exfoliating botanical Mandarin beads and complete facial. You get to select essential oils (Lavender, Rosemary or Neroli) to be combined with the body mineral oil on the stones that penetrate warmth and relaxation for an approximate 12" diameter around each area. This is a "dual" treatment for face & body with soothing asian music, special fortune cookies dipped in gourmet chocolate, fresh fruit kabob & iced green tea with gensing.
GAYLE'S MARINETHERAPY FACIAL using YONKA-Paris
(This is the finest "dual" treatment you'll ever experience - 2 hours $150)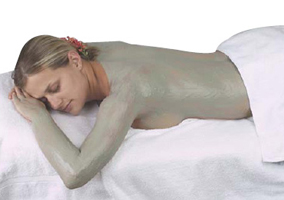 Gayle uses a complex combination of world famous YONKA phytotherapy products to detoxify, purify, stimulate, tighten, tone, smooth, moisturize & soothe your skin. The results are astounding!!
A thorough Sea Salt Scrub and Seaweed Wrap with Hydration Veil Finish from Paris for Arms, Hands, Décolleté, and Feet. Amazing Spirulina Mask to deeply hydrate and deliver more toned and firm skin for the Face. Using the YONKA palette of vitaminized creams, soothing 5 essential oils pulverization, & plant based hydro-peel for thorough yet gentle extractions. Soft Brazilian Bossa Nova blend of Gayle's CDs will transport you to your most relaxed state-of-being. As a finish, Gayle prepares a tasty blend of ocean-inspired healthy snacks and organic fruit paired with "Superfood" beverage with a mix of spirulina and other revitalizing greens.
GAYLE'S THAILAND BLISS FACIAL using HERBAL COMPRESSES
(Steam Heated healing herbs "dual treatment" Relax/Revitalize - 2 hours $150)

This herbal therapy was designed to relieve pain and inflammation or take you on a "Journey to Paradise". A selection of therapeutic herbs including Prai, Ginger, Turmeric, Kaffir Lime, Camphor, Tamarind and Lemongrass are wrapped in a muslin compress, steamed, and then applied to the body in gentle pressing, circular and rolling movements. The herbs possess properties that are anti-inflammatory, antiseptic, astringent and antioxidant. The body compresses are approxi.. 5" in diameter, and the facial ones are smaller. These steamed herb compresses with the unique Thai massage has a relaxing effect on the body and mind, soothing muscles while giving the body's energy reserves a huge boost. After the treatment Gayle will give you the compresses & a list of ways to use them at home. Mighty Leaf Tea of your choice with a surprise "Thai inspired" treat at the end will make this "dual treatment" you'll never forget!
GAYLE'S ITALIAN AMORE FACIAL using Marini Age Intervention
(A "resultz-oriented" dual treatment approximate 2 hour $150)
Amazing "Age Intervention Resurfacing Facial" using Jan Marini's trademarked Telomerase Enzyme products in combination with anti-inflammatory agents, select peptides and other proven significant skin enhancing ingredients. This is an accelerated facial procedure that incorporates 2 effective topical exfoliants. The combination of glycolic acid and proteolytic enzymes safely intensifies the resurfacing action and provides measurable results for virtually any skin type. Soothing and very hydrating, the finish of Micromask will leave your face refreshed and smooth. Gayle's awesome exfoliating "Mediterranean Coral Rouge" for décolleté , trapezius, shoulder to fingertips & feet during your enzyme treatment will make time fly. Her foot reflexology treatment during your final mask will transport you to any special spot you'd love to be in Italy. Special Italian treats await you at the end of this AMORE facial (Men love this one)!