Gayle's NEW Berry Natural Facial (and Skin Care Products)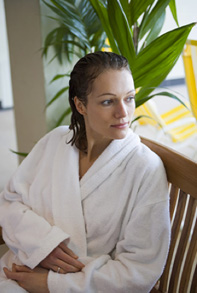 Treat yourself or purchase a Gift Certificate for someone special to this unique, wonderful, fresh GAYLE'S BERRY NATURAL FACIAL!
Several years ago I started compiling my favorite ingredients for specific products I would like to customize for my own "Natural Facial", designed for Male & Females. I have never been so THRILLED & EXCITED than I am now to announce that I have finally completed my creation of "GAYLE'S BERRY NATURAL FACIAL"!! (Paraben free, of course! NATURAL - not 100% organic, ask Gayle details)
It features my "Milky Cleanser", my "Pomegranate Enzyme Steam Masque", my "Berry Scrub-a-licious", my "Hi-Octane Oxygen Berry Masque", my "Lemon Soufflé Hydrating Bomb" & facial massage finish of my "Grapefruit Wrinkle Knockout Face Crème". This facial is RESULTZ orientated and these vibrant, intense natural plant extract ingredients are POWERFUL! 1 Hour 45 min Facial $120 includes steam, extractions & neck, shoulder, arm, hand and foot massage.
My Berry Natural products ingredients come from a prestigious Labs that:
Utilizes 100% renewable wind power. Recycled packaging, shipping, and marketing materials
Creates every bottle, jar, or pump filled in-house by Adults with Disabilities through The United Way.
Specializes in zero waste sustainable practices for filling, shipping and marketing processes. Biodegradable Products
Produces high quality ingredients combined with cutting edge innovative science, vegan, kosher, biodegradable, made with organic ingredients, natural, fair trade, and truly superior product line up, most ingredients grown organically on pristine North American west coast regions
Designates proceeds from the sale of every product to fund the planting of up to one thousand heirloom fruit trees per year in low income communities and Native American Reservations
Fruit trees heal the environment by cleaning the air, improving soil quality, preventing erosion, creating animal habitat, sustaining valuable water sources, and healthy organic nutrition. The Fruit Tree Planting Foundation's goal is to plant 18 billion fruit trees. This is approximately 3 fruit trees for every person alive.

GAYLE'S BERRY NATURAL SKIN CARE PRODUCTS
Available to purchase hopefully before the end of 2011!!
Call Gayle 831.320.6663 for details.